The SAS protest march against the SNP Government's wind energy policy is now less than a week away, and with preparations well underway, here is some last minute information for those of you coming along. The march will begin promptly at 1.00pm (gathering from 12.00 noon), and finish at around about 4.00pm.
Route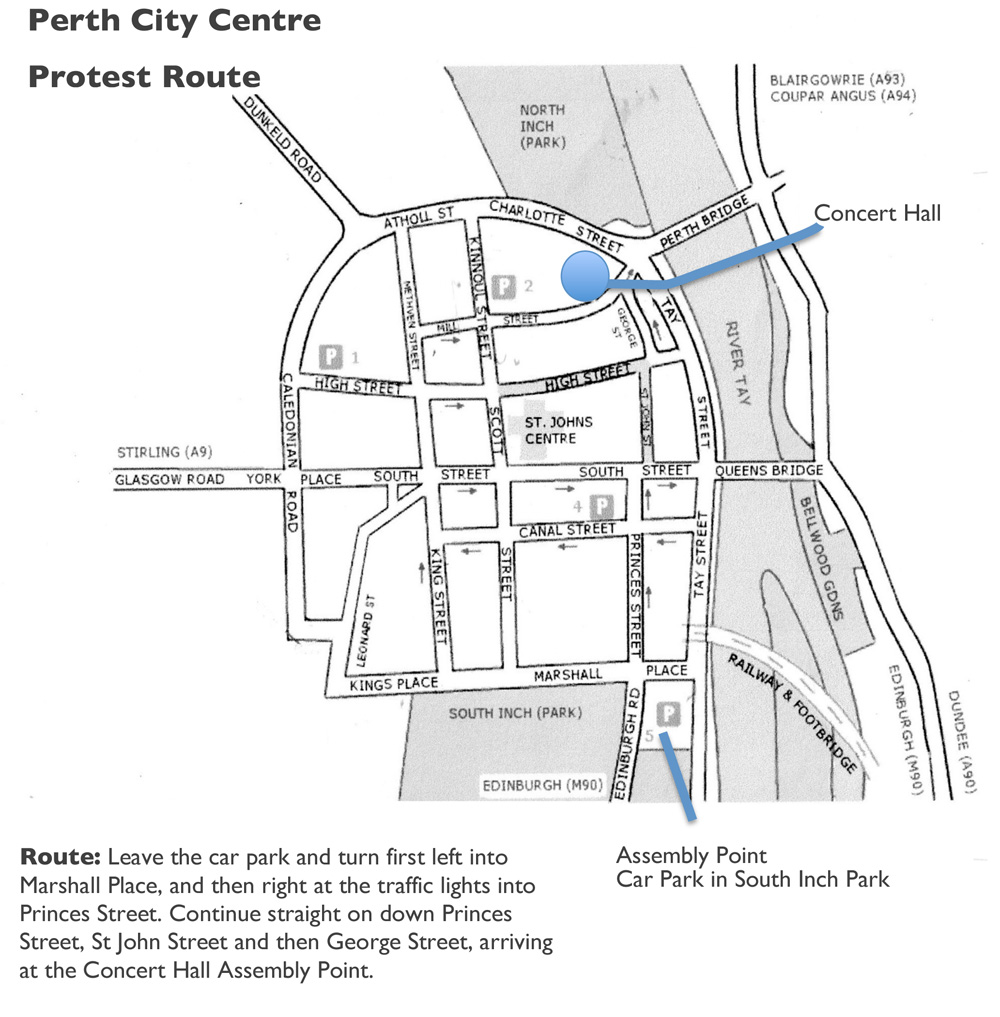 Parking
There is plenty of parking in the car park within South Inch Park, where we will be gathering before the march begins. You can buy enough parking time there to cover the period of the march, although there will be a lunch break when you can buy further time if needed. There is also parking at a nearby multi-story in Canal Street and on-street parking, although be aware that this latter option might be time limited and expensive. There is also a Park & Ride service (Service 301) operating from Broxden, just off the Glasgow Road. You can find out more details about this from the operators Stagecoach Perth.
Stewards
Perth & Kinross have a code of conduct – Public Procession Code of Conduct – which the stewarding team will be ensuring we all follow. The stewarding team will be headed up by Stuart Young, and all will be wearing orange hi-vis vests with 'Scotland Against Spin' clearly marked on the back. (Stuart will also have a red armband on to identify him.) They will be marching with us, and will be able to give you any information you need about the route map or timings, or help should you have any difficulties. Please make sure that you follow any instructions they give you.
Our thanks go to all who have volunteered as stewards and to Stuart for organising them. We still have some places to fill on the team, so if you are able to volunteer for this, then do please let us know as soon as possible – info@scotlandagainstspin.org – so that we have the number required by the police.
Chief Steward Note: Chiefsteward-briefingnote
Emergency Contact Tel No, for use on the day only – 07590 994690 (Linda Holt)
Safety
The march will be accompanied by a police escort, who will ensure that we stay on the correct route and will help with any difficulties. Again, it is very important to follow any instructions that the police may give us.
Times
The Assembly Point is the car park in South Inch Park at 12.00noon, where everyone will have time to get organised. There will be a short 'welcome' speech at 12.45pm, letting everyone know any last minute information, before we set off on the march at 1.00pm.
We will make our way to the Concert Hall via the designated march route, (see map) and will gather outside the Concert Hall, where there will be speeches from special guests, Dr Rachel Connor and Graeme Steele, from the South of Scotland.
There will be time for lunch between 2.00pm and 3.00pm (approx), and there are plenty of sandwich bars and restaurants in the vicinity. Alex Salmond is due to make his speech at 3.00pm inside the Concert Hall, and we would ask that everyone gathers again outside in plenty of time to make sure he gets a noisy reception from us, and the gathered SNP delegates hear our message loud and clear inside the Concert Hall!
Further Info
As ever, our aim is a peaceful, good-natured protest at which everyone, and especially children and families, are welcome. We want everyone to be safe and have a thoroughly enjoyable day. Bring your placards, wooden spoons, saucepans, whistles and shouting voices to make plenty of noise with and remember….
….protestors can reach parts that the best emails, letters, Internet and press campaigns can't! Every single person who comes to Perth is a reminder that each consented turbine is costing the party votes in the referendum and subsequent elections. So come and join us in Perth on Saturday 19th October, and Stop the Spin.